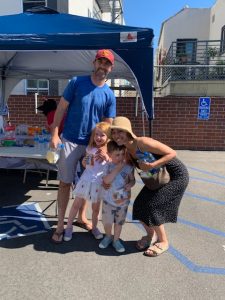 Neighborhood Leadership Groups (NLGs) are vital groups centered around bolstering the leadership capacity of community members to share resources, cultivate emotional resilience, and mobilize residents to collectively address systemic conditions that perpetuate inequities and trauma. They are also one part of the PILA initiative run by PLN.
"It was a God-send scenario when I first learned about the NLG group," said LA Metro member Sarah. Sarah was one of the four representatives who led the Red Shield Salvation Army Neighborhood Leadership Group based in the LA Metro Area this past year. "It was during a time I needed help but couldn't get it; I was hit with COVID and didn't know how to handle the black hole of darkness I was in. I tried to seek therapy, but was told I had to wait at least three months with no guarantee of an appointment because the facility was severely understaffed. It was embarassing to admit that I needed profesional help for feeling so depressed. In the midst of that, the NLG felt like a giant support group.  I remember saying to them, 'Yall have been more a therapist for me than an actual therapist.'"
In Sarah's time there she helped increase involvement from 50 to 130 members. Sarah believes that what drove the rapid growth was the critical need for resources and community interest in learning more through the workshops they offer. "At the beginning of pandemic, PILA's NLG's were giving trauma-based workshops, which is when I joined this NLG as well through the recommendation of another member," remembers Sarah. "In the beginning, I wanted to come because PILA offered resources and a network of support that I needed as a mother at the time, but what made me stay were the amazing workshops, the learning, and authentic community. It's like a forum, where if you didn't know about a resource, a member will share it, and then it will get you excited to share with others around you. I've personally become more resourceful to my family and friends who lean on me. And I keep coming back. Every session brings up a case that I, or someone I know, went through. Then our group discusses, shares resources, and bounces ideas off each other, which I really enjoy. I've also learned so much from members asking questions that I didn't have."
"I was taught the impact of trauma both physically and psychologically. I gained sense of myself, my problems, and how to handle my family. If it wasn't for the members' extensive support and testimonies, I would've been lost. I had people experiencing what I was experiencing and that was a huge Ah-ha! moment. I realized, 'Hey it's my own neighbors, friends and relatives that sometimes have the best answers. Not only that, they can cry, share, and laugh with me.' Now I understand the value of community because of PILA," said Sarah of her experience.
NLG's are community run and most importantly, community led with representatives coming from a nomination and voting process. The groups tend to reflect the demographic of their neighborhoods, with members ranging from 25 years old to their 60's. "You will see members that remind you of yourself, your grandma, mom, uncle and aunt. It's a well-rounded mix of individuals," added Sarah.
Housing rights , mental health workshops, and crossing technological and language barriers are the most in-demand needs from Sarah's NLG. To address these needs PILA:
Holds a longstanding partnership with Strategic Actions for a Just Economy (SAJE), which hold monthly presentations on renting laws like the Los Angeles Tenant Anti-Harassment Ordinance, contracts, and how to navigate landlord harassment.
Has attorneys in attendance to directly address community members' questions.
Collaborates with the Department of Mental Health to host mental health workshops – most recently a series was on Suicide Prevention Training.